Last week I joined the Nuffield club by buying a Nuffield 4DM (Universal Four)
and because everyone likes pictures: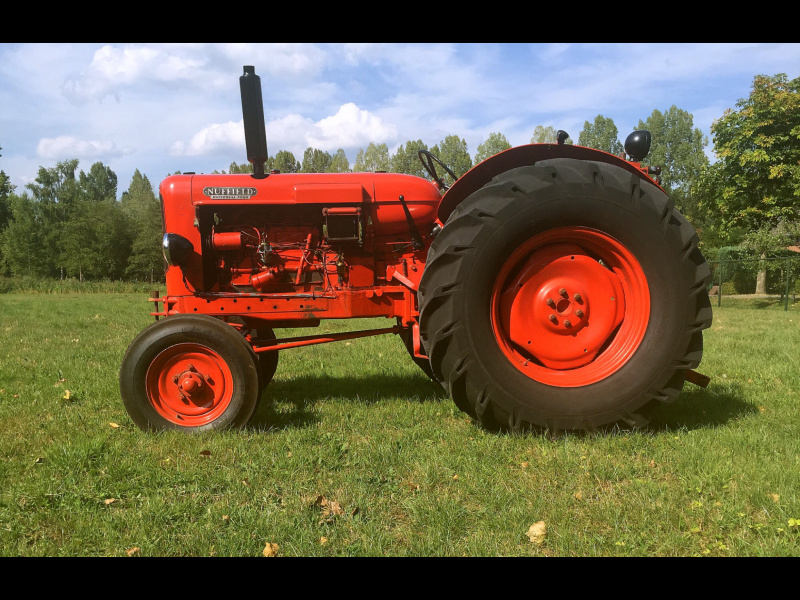 I'm the 4th owner of the tractor. The previous owner only had the tractor for a year and I had the opportunity to have a chat with the 2nd owner as well. The tractor looks good on the outside, although the engine has been patched up because it has been frozen once a long time ago.
The previous owner didn't do any maintenance on it, so I knew from the start that I would firstly have to change change oil, filters and give everything a few squeezes with the grease gun.
While loading the tractor on the trailer, they somehow forced the steering, breaking the bearing and seperating the steering shaft with worm from the rest of the tractor...
The previous owner returned me a decent amount of money because he broke the steering, more than enough to buy a new bearing, filters, oil and grease,... And have some left for other supplies.
Fitting the new bearing was an easy job, putting the worm back in the trunnion nut (is that the right English name?) without removing the fuel tank and steering column was a bit harder. But I succeeded
I took out the top oil plug from the steering box so I could wiggle the nut around and fit the worm in. By the way, the bearing has the same dimension as a regular 6305 bearing (25x62x17 mm) but that type can't handle the forces while steering, you need a self aligning bearing type 1305 (not the K -konisch - tapered type!)
The bearing balls of the old bearing are in the bottom of the steering box now, so when the new oil arrives, I will drain the steering box so I can get the bearing balls out.
This is beginning to be a bit of a long post, I'll stop here and write the rest in a next post