I make no apology for this not being tractor related but we live in difficult times. According to Facebook many of us are taking advantage of "Social Isolation" to do a little work on our tractors ( so there is a link to tractors).
There is little we can do to stop the virus apart from not meeting other people, however today I heard of something I can help with. Think of all the front line health workers in the hospitals wearing gloves,masks,face shields etc in a hot hospital ward it must be horrendous and they regularly need a change of clothes, that they are running out of, they need more scrubs!
This scheme is only for Leicester Hospitals but you may be able to find something local to you.
https://www.gofundme.com/f/help-our-nhs ... zU1XIjsOh4
Every £14 donated will pay for a set of scrubs and you can have you company name or organisation added to indicate who has sponsored the clothing. I have personally donated money for 4 sets of scrubs and requested the forum address be stitched onto the clothing, sponsored by Nuffield should raise a few eyebrows in a NHS hospital!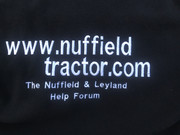 I am hoping that by sharing this here some of you will take part in this scheme or find one local to yourself. My village has set up a help scheme for the elderly or vulnerable who are isolating but I have a couple of health issues myself that prevent me taking part but I can help with clothing for those on the front line!
Stay safe!
Regards Rick Cobley