Posts: 3
Joined: Tue Oct 31, 2023 10:02 pm
Posts: 3
Joined: Tue Oct 31, 2023 10:02 pm
Last August, I was lucky to be able to see these rare beauty's
Posts: 2
Joined: Sat Aug 19, 2023 4:44 am
Ausy nuffielder

wrote:

↑

Wed Aug 30, 2023 2:04 am

Hi to forum members, I recently purchased a 4 DM Nuffield for two reasons. It was likely born the same year as me and I first learned to drive a tractor at age 7 on our 460.

My 4DM has the BMC diesel, starts and runs well with good oil pressure and clean oil and water. Brakes were seized, many seals were leaking, air cleaner bodged up, steering loose are among the many ailments. But I have a project and many memories.

From what I can find out my Nuffy has earned a living on a wheat farm in the hot and dry north of Victoria in Australia. The sun has not been kind to the paint but it keeps the rust count low.

Thanks for the forum. I've gleaned a heap of good information from here already and look forward to more reading and hearing from others.

I've located a really great source of Nuffield parts here in Victoria. They have most parts on the shelf. It's a godsend and a great source of knowledge as well.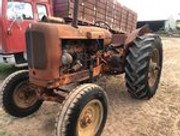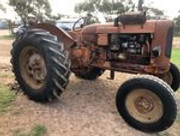 Posts: 1
Joined: Wed Aug 15, 2018 8:21 pm
Hello. My introduction to Nuffield tractors was sitting on the lap of a guy called Ken Davey, in the early 1960's on a Universal Four. In 1967/8 during harvest while around 9 or 10 years old, a mk 1 4/65 arrived in a field while I was moving a DB 880 4cylinder for the combine driver, Bill Lymer. The Nuffield was the first brand new tractor I'd ever seen or sat on, so I swapped the DB for the Nuffield, and nobody complained so used the 4/65. Two more 4/65's arrived on the same farm, another mk 1 and a mk 2 with a horndraulic (sp) loader fitted. Two of them stayed on fram until well into the 1980's. The mk 2 was written off after an rta with a Jaguar, and parts were used to repair the two surviving 4/65's. Fast forward to working in Agri Engineering from 1977 through to carrying on now, and I'd always wanted a 4/65 so eventually found one in 2016, and later added a 384, and more recently a Marshall 702. I remain saddened by the demise of the British tractor manufacturing industry. We did make great tractors, and Nuffield and Leyland and later Marshall managed to produce a product with far less investment than MF and Ford and DB, even though most of us recognise the basic structure changed little from 1948 through to the end of limited production Marshall and JWD tractors. I've always hope that Lord Bamford's JCB fastrac would take on the world, but current production numbers and sadly reliability issues keep the Fastrac as a niche product, rather than a competitor for CNH, AGCO or Deere. In the past we built everything for tractor production in the UK. Just an opinion, but I'd like to think we should do that again. Cheers k