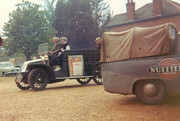 My second year of working at Lenwoods Limited in Swaffham. I was 17. The pickup was the field service van used by Jack Fielding who worked on farms mostly and taught me a great deal about agricultural engineering. All our vehicles had the big Nuffield badge on both sides. Our pickup and main "posh" van were Commer Cobs, our other ones were an Austin 12 van, an ex-Commer bus and a ex-WD Morris Commercial desert gun truck that was on sand tyres and used for breakdowns and delivering/collecting tractors on a low loader trailer.
After I passed my driving test I used the Commer bus as a tyre service vehicle, filling it up with 11x36 tyres, tubes and sacks of calcium chloride plus the engine driven ballasting pump, going round farms fitting tyres.
As you can see, rust was already at work on the pickup's back mudguard, it was about 6 years old at the time.
The shooting brake is a 1907 Renault that was owned by Joe and Vic Leonard who owned the garage, Vic is driving it. Think it was on the way to take part in the Swaffham Carnival so the picture was taken possibly on a Saturday. (Yes, we had to work Saturdays back then, normal working hours were 7.30 am to 5.30 pm and 7.30 am to 1 pm on Saturdays but some Saturdays you were expected to work until 5.30 pm.
There is a Renault Dauphine in the background too.